Its so tough to keep up with the rising flood of new digital tools, devices, buzzwords and strategies. A bit like that lioness charging into a herd of dashing zebras – all stripes, dust and chaos. In amongst all the clutter I like to focus on 8 core travel marketing tools and activities. 
This then is your BASIC ONLINE STARTER KIT for travel marketing 101.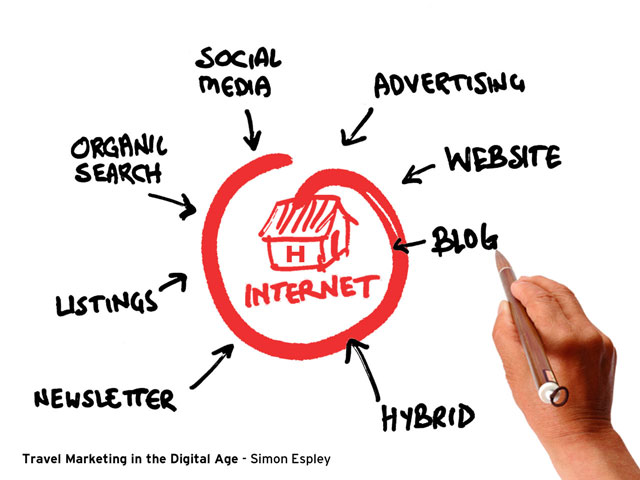 1. Web site
It all starts and ends with a web site so make sure yours is quick to load, informative, easy on the eye and equipped with a blog, booking engine, Google Maps plugin and payment facility.  And it must be integrated into social media, attractive to search engines and viewable on all screen sizes.  See this short post on What makes a good hotel web site?

2. Social media
Get smart about social media because each platform has its quirks and advantages and you cannot possibly use them all effectively.  Would you go to Mauritius to see lions or to lounge on the beach? Exactly, so choose 3 or 4 social media platforms based on their strengths and what they can do for you and absorb them into your marketing DNA.
3. Newsletter
Emailing clients and suppliers a regular newsletter is a very effective way of staying in touch.  BUT make sure that they have opted into your newsletter, and preferably use a dedicated email marketing service like Mailchimp.  Keep your language simple and avoid spammy and overly commercial messages like you would avoid a hippo charge.
4. Organic search strategy
People are searching for information ALL THE TIME.  Making sure that your web site and other online content ranks highly in those search results is called search engine optimization (SEO) and relies on how attractive and friendly your content is for search engines (OK that effectively means Google).  Note that search engines are increasingly also targeting social media content.  There's a lot of free stuff you can do to ensure better SEO, but of paramount importance is that you must create good content that people are searching for and will share with friends.  It is actually that simple.
5. Blogging strategy
Don't confuse blogging with advertising.  When you write your next blog post, ask yourself three questions.  Firstly is anybody important to you REALLY going to read that post?  Really?  Secondly would a total stranger actually search online for this information?  And thirdly would that same stranger share this with his friends?  Consider the following two examples and ask yourself those questions.
– Example one:  A blog post about the new room recently built onto Greyton Villa's north wing, with plush new bedding and the best modern shower heads.
– Example two:  A blog post about the top 5 restaurants in Greyton, brought to you by Greyton Villa.
6. Advertising
Yes, you REALLY SHOULD set aside some precious cash for advertising – it's an essential part of your marketing toolkit.  There are many options, from paid Google Adwords, to Facebook Ads, web site banners, "native" advertising (where ads are part of the content), and many more.  And you will have to wade through plenty of buzzwords like PPC, CPM and CPI – ask Wikipedia when in doubt.
7. Listings – paid, free and transactional
Listings can work away for you while you focus on other matters.  Examples include Tripadvisor, Google Hotel Finder and airbnb plus online booking agents (like SafariNow) and marketing collectives that provide additional digital marketing juice (like Africa Geographic's Special Places).  These tools often have multiple benefits, so get to know them and choose what suits your needs.  Then embrace them and make them work for you.
8.  Lastly, and most importantly, use the above tools together, in a cohesive hybrid strategy. 
For example market your SEO-friendly blog posts via social media and your newsletter.
3 excellent posts you should read:
Extracts: 
"Monitor what people are saying about you"
"Join the conversation"
 2.  7 Tips to differentiate your hotel online
Extracts: 
"Hotels need to diversify their digital marketing strategy and truly become multi-channel"
"Gather your guests' information and ask them to opt-in for promotions and special offers so that you can reach out directly"
3. One third of all Americans own tablets!
Extracts: 
"Almost twice as many as the 18% who owned a tablet last year"
"Adults in their thirties and forties are now significantly more likely than any other age group to own this device"
Comment:  So if you're interested in American clients make sure your marketing is at least tablet-friendly.
My next post: 
How to write that killer blog post
Sign up or connect
Want to sign up (it's free) to receive an email notification when my next post in this series has been published?
Lets connect on Linkedin and Twitter
Send your questions to me here
Subscribe to our newsletter.