Masindi is located in western Uganda, about 210km (3 to 5 hour drive) from Kampala and Entebbe International Airport. There are many tourist attractions around Masindi, including Murchison Falls National Park, the 'Royal Mile' birding site in the Budongo Forest, the Polish cemetery and Ziwa Rhino Sanctuary.
Because Masindi is gifted with tourist attractions like these, it would be a pity to miss out on visiting the area while on holiday in Uganda. Here is an example of a 3-day itinerary that will cover such sights and activities.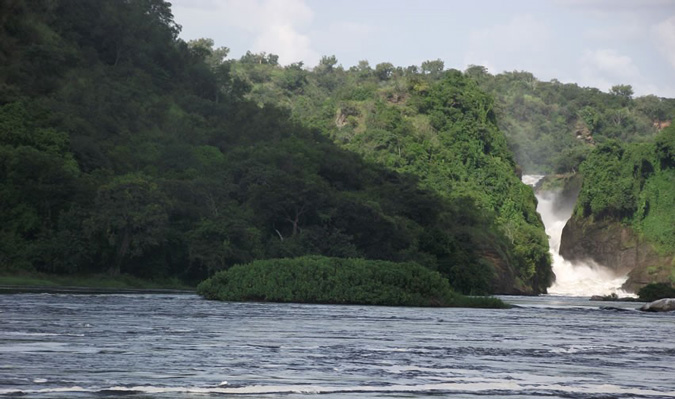 Day 1:
Set off in the morning from your hotel in Kampala, or Entebbe International Airport, and hit the road towards Masindi via Luwero. Enroute, about 168km from Kampala, visit Ziwa Rhino Sanctuary for a bit of rhino tracking. This is the only place in Uganda where one can track rhinos in the wild.
The cost for rhino tracking for adults and children (foreign non-residents) is US$45 and US$23 respectively.
Other tour activities include a shoebill-spotting canoe ride, a night walk, a nature walk and bird watching.
Get lunch at Amuka Safari Lodge, and then drive through Masindi town to the Budongo Forest, stopping overnight at Budongo Eco Lodge.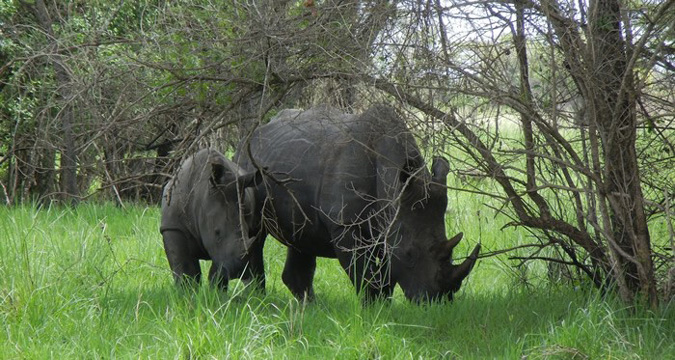 Day 2:
After an early start (and a large breakfast) go for some chimpanzee tracking in Budongo Forest. Expect an encounter with other primates like baboons, colobus monkeys, patas monkeys, as well as many bird species such as the brown twinspot, Cassin's spinetail, black-eared ground thrush, chocolate-backed kingfisher, blue-breasted kingfisher and chestnut-capped flycatcher.
After lunch, proceed to Murchison Falls National Park (a 40 – 60 minute drive), and arrive in time for the afternoon boat cruise to the bottom of the falls. Expect to see huge Nile crocodiles, herds of elephant and buffalo quenching their thirst on the shores. Bird life is prolific and the boat provides a clear platform for taking photographs. Have dinner and spend the night at Pakuba Safari Lodge.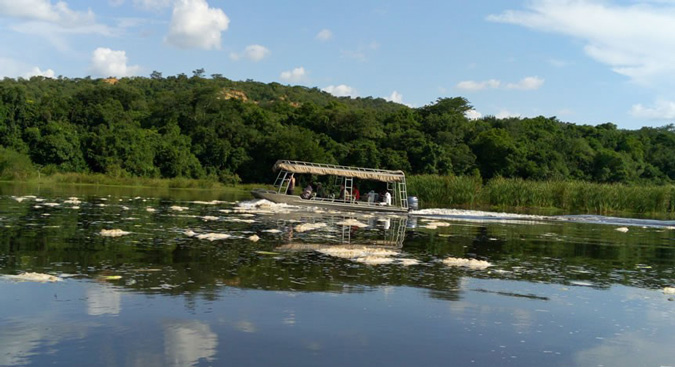 Day 3:
After breakfast, go on a morning game drive in Murchison Falls National Park. It is a good idea to hire a ranger to assist you in tracking the wildlife. Some of the animals that you could see here are giraffe, elephant, buffalo, antelope, lion, and leopard.
Return to the lodge by 10:30am to refresh and relax as you wait for lunch, after which you can take an afternoon game drive as you drive back to your hotel in Kampala or straight to the airport.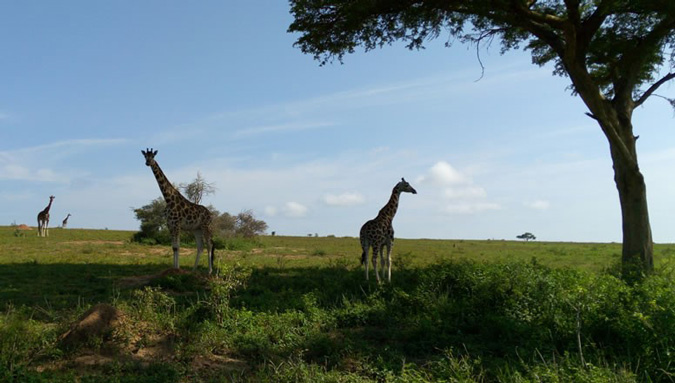 This trip can be done as a self-drive where you hire a car in Kampala and drive according to your own itinerary. However, we do recommend hiring 4×4 cars and the most popular models include Toyota Rav4, Land Cruiser, Nissan Patrol, Safari, Super Custom and Toyota HiAce van for groups and families.
It's always a good idea to book your car in advance to avoid any disappointment. Additionally, to fully enjoy game viewing, you need car with pop-up roof, preferably a Land Cruiser or Minibus.